Simon Safety awarded Outstanding Contribution Award
Posted by: Christian Moles
Posted on: 18/10/2018, 12:37
Simon Safety & Lifting Centre Ltd, based in Neyland, Milford Haven, has been awarded the Golden Eagle Award for an Outstanding Contribution by one of their valued Upstream Oil and Gas clients.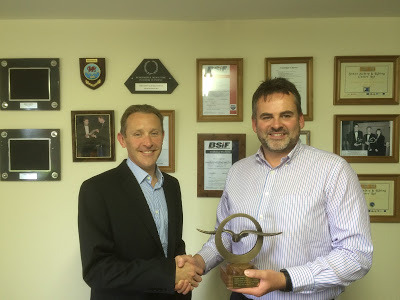 Nexen Petroleum U.K. Limited presented the award in recognition for the outstanding contribution Simon Safety has made to the success of their Golden Eagle Area Development project. The prestigious award is presented to vendors who have displayed exceptional qualities and fully support their projects beyond the basic requirements of the contract. The key to this success was good communication, flexibility and efficiency all of which Simon Safety demonstrated throughout.
Simon Safety are specialist suppliers of PPE and understand the importance and critical requirement when supporting clients, ensuring the safety of all personnel and providing a coordinated appearance for teams of employees, who are often working on Global jobsites.
After receiving the prestigious Golden Eagle Award, Simon Ashton, Managing Director of Simon Safety, said "I am delighted to be receiving this award on behalf of the dedicated and hardworking team at Simon Safety. It is a great feeling to receive recognition for the hard work and commitment we provide our valued clients, Thank you".
Simon Safety & Lifting Centre Ltd are based in Milford Haven, alongside the UK's largest Oil and Gas Port, and specialise in the supporting the UK Energy and Industrial business sectors through the manufacture and distribution of Personal Protective Equipment, Work Wear and Workplace Safety Supplies.